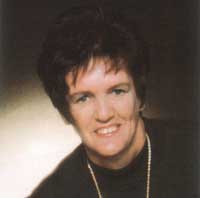 Meryl Jorgensen
Executive, Qld
Sponsored by:
Don Whitaker, NSW
When I was born I was diagnosed as having a condition known as Macroglossia Lymphangioma, which means when a baby is forming some cells wander away from the main body of cells and settle somewhere else. In my case they settled under my tongue.
The best way of describing my tongue is it is a half egg in shape, filling the cavity of my mouth totally. It is red raw to look at on a good day, otherwise it's dark purple to black, with no covering on it at all and has very limited movement.
When I was born, quite a substantial portion of my tongue was protruding from my mouth, making it impossible for me to close my mouth, let alone suckle.
When I was nearly four and a half months old, I was allowed to go home for three days. During this short visit Mum took me to see a doctor, reputed to be the best in Brisbane.
On completion of the examination my parents were told, in his opinion, the only course of action was to remove my tongue, leaving me to lead a normal life but I would never speak. Thankfully, they did not take his advice.
When I was old enough to have soft drink I had to put sugar in it to kill the acid because it would burn my tongue. I couldn't eat rice, curry, mayonnaise, ginger or salad dressing and apples had to be grated and sprinkled with sugar and covered with milk.
I still can't eat toffee, boiled lollies, pizzas with too much spice and crunchy base, curry and liquorice. Also pies and sausage rolls are usually too spicy as is mayonnaise, any kind of mouthwash, pickles and raw carrots, just to name a few!
If I got nervous or excited my tongue would bleed, sometimes for hours. When I got a cold it would swell up so much that baby food was the only thing I could eat. The glands under my neck were constantly swollen, sometimes worse than others.
At these times I would paint my tongue with Gentian Violet and rinse my mouth out with Hydrogen Peroxide to try and stop the bleeding and constant pain.
Approximately 18 months ago a dear friend of mine suggested I visit a naturopath. After several weeks of gentle persuasion and to prove him wrong (natural medicine doesn't work) I went to one.
I was put on some multivitamins (Orachel Plus). After taking them for approximately six weeks, I couldn't believe the change in my tongue.
This same friend then suggested I try the Neways foundation trio (Revenol, Feroxin and Orachel Plus).
Since starting on these I have now become a Neways Distributor, my tongue has now become the same texture and colour as everybody else's. It will never be the same shape but it is gradually getting smaller in width, it no longer bleeds or swells, the glands under my neck have all disappeared and I am gradually eating foods I have never been able to eat before.
I will be forever grateful to my friends Don and Lynne and Neways for giving me the quality of life I am now experiencing. If I had not seen it with my own eyes I would never have thought it possible.
Once again, thank you, Neways.